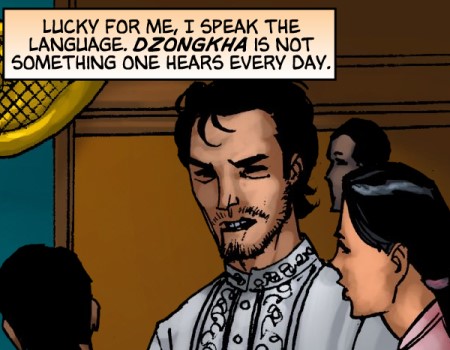 The BCF Class of 2012 has now been in Bhutan for almost a week! As orientation progresses, one important topic to be covered is learning 
Dzongkha
.
For those of you who are scratching your heads, Dzongkha is the national language of Bhutan. And, even though the language of instruction schools in Bhutan is English, it never hurts for our teachers to have a few Dzonghka words and phrases up their sleeves.
Interestingly, Dzonghka is only one of many languages in Bhutan. For centuries, the different valleys of Bhutan were isolated from each other by torrential rivers and deep gorges. As a result, most of these valleys developed their own dialects. At present, there are about 13 different dialects spoken in Bhutan.
There are, however, three major languages in Bhutan: Dzongkha, Sharchopkha and Nepali. Dzongkha is mainly spoken in the west, Sharchopkha in the east, and Nepali in the south.
In its spoken form, Dzonghka exhibits some similarity to Tibetan, while the alphabet is exactly the same (but uses a different style of scripts).
Translation: All human beings are born free and equal in dignity and rights. They are endowed with reason and conscience and should act towards one another in a spirit of brotherhood.
(Article 1 of the Universal Declaration of Human Rights)
Below are a few key phrases that our new teachers will want to memorize before heading out to the field:
Greeting: Kuzoo Zangpo La (can be used all day)
Reply: Kuzoo Zangpo La (La is a word for respect, similar to Sir in English)
How are you?: Gadaybay Zhu Ga?
I am fine: Legshom (pronounced Layshom)
Thank You: Kaadinchey La
What is your name?: Choey gi Ming ga chi mo?

My name is _____: Ngayi Ming _____ een
Where is the toilet?: Chhabsang ga ti mo?
How much is the cost of this item?: Di gi gong ga dem chi mo?
Please reduce the cost a bit: Gong Aa tsi phab nang.
OK I will buy it: Toob, Nga gi nyo ge.
See ya later: Shoo lay log jay ge.
Sit sit: Zhu Zhu
Stand up: Yar long